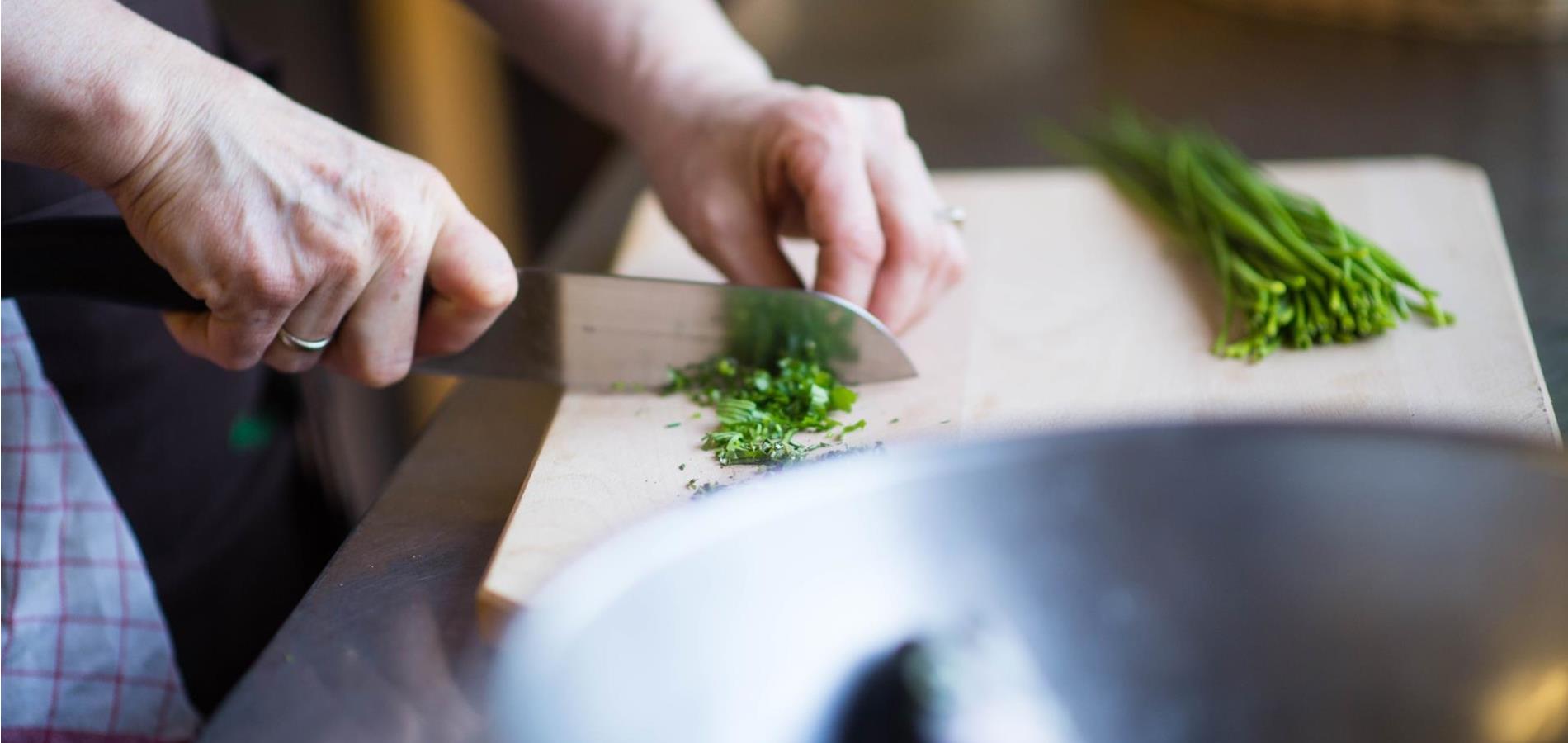 Wild herbs-buckweath-potatoe gnocchi
with ricotta, dried tomatoes and melted "Schüttlbrot" butter
For 4 people
Preparation time 40 min

Gnocchi
350 g Potatoes – cooked and mashed
2 Egg yolk
16 g Liquid butter
80 g Flour (35 g durum wheat semolina , 30 g flour, 15 g buckwheat flour )
40 g Buckwheat grain, dried, roasted
2 tablespoons Wild herb pesto
Salt, pepper from a mill, nutmeg
"Schüttelbrot" butter
60 g Butter, melted
15 g Schüttelbrot - breadcrumbs
Other ingredients
Olive oil
60 g Speck, cut into thin slices
60 g Ricotta
20 g Dried tomatoes
Stir together the potatoes with the egg yolk and butter with a cooking spoon. Add the flour mix, the roasted buckwheat grain and the wild herb pesto. Work all this quickly to a smooth potato dough.
Then form 1,5 cm thick roll of dough and cut it into equal long pieces. Roll off the gnocchi by means of a fork. Cook them for 1-2 minutes in salted water.
Heat some olive oil in a pen and sauté the dried tomatoes, add the speck and gnocchi and toss for 1-2 minutes.
Arrange the gnocchi on a plate, let the butter run into the gnocchi and arrange the ricotta dumpling on top of it.
Enjoy your meal! Claudia Laner – Gasthof Waldbichl
Download la ricetta:
Gnocchi di patate, erbe selvatiche e grano saraceno con ricotta, pomodorini secchi e burro fuso al "Schüttelbrot"