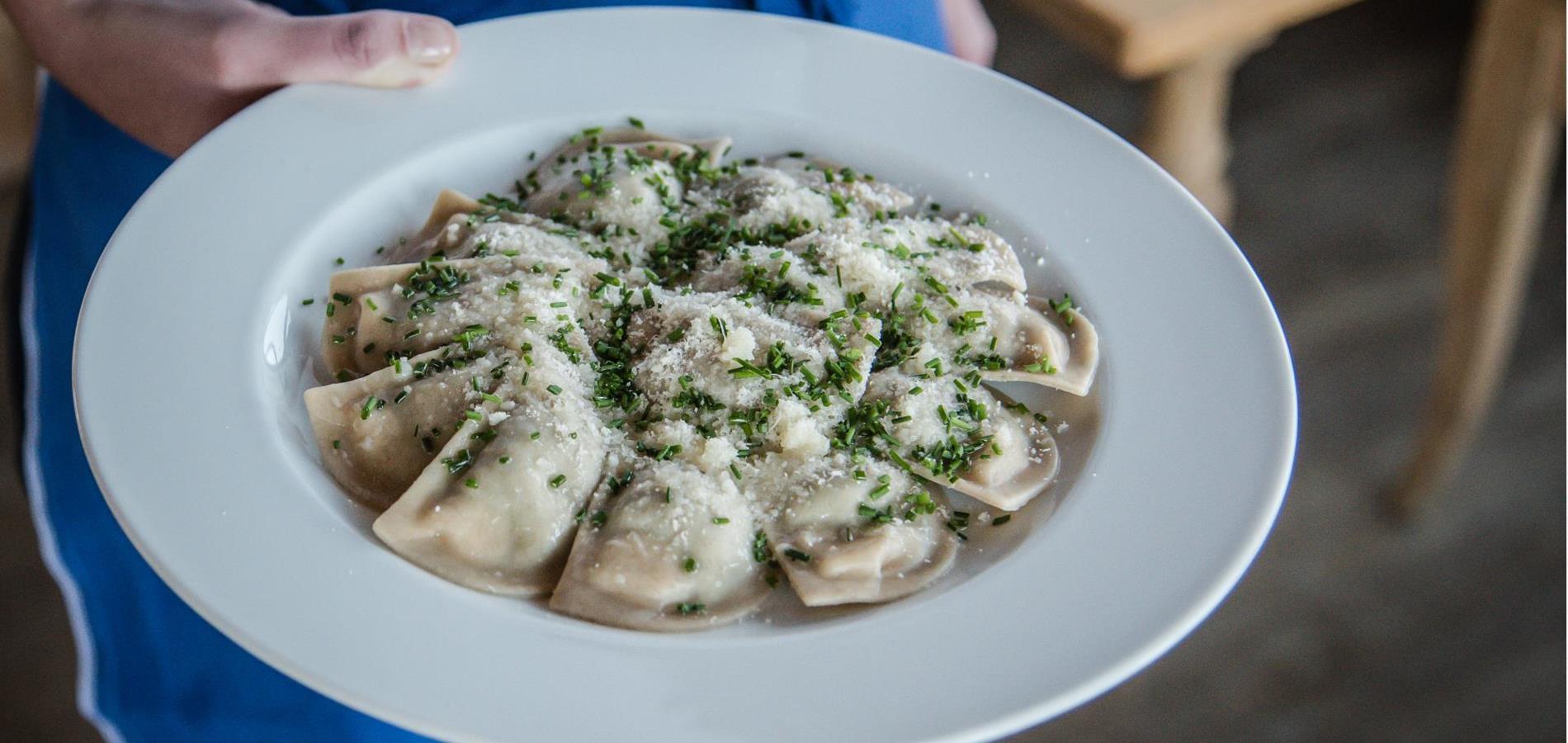 Alpin-Mediterranean dumplings
A recipe by Alpine Hut Wurzer Alm
For 6 people
Preparation time 40 min

Ingredients pasta:
400 g wheat flour
200 g rye flour
2 eggs
1 tablespoon olive oil
1/4 l water, lukewarm
salt

Ingredients filling:
80 g onion, sliced
1 carrot, 1 zucchini, 1 aubergine, cut into small cubes
50 g black olives
50 g speck (bacon), roasted
pecorino cheese
250 g ricotta
salt, peper, garlic, oregano

100 g parmesan cheese
200 g butter, sage leaves
Knead the dough quickly to a rather firm mass and allow the dough to rest for about 30 minutes.
Heat some olive oil in a pan, sauté onion until transparent, add the vegetables, olives and speck and cook them until they are soft. Mix altogether with a mixer before adding the ricotta, pecorino cheese and spices.
Roll the dough out by a noodle machine while getting thin sheets. Dig out round circles, give some of the filling in the middle of it and cover the edge with some water. Fold the circles to a half moon and use your fingers to press the edge.
Boil the dumplings shortly in cooking salted water. Arrange the parmesan cheese and the dumplings on the plates. Finally foam up the butter with the sage and pour it on top.
Enjoy your meal - Ulli Kofler from mountain hut Wurzer Alm
Download recipe:
Alpin-Mediterranean dumplings