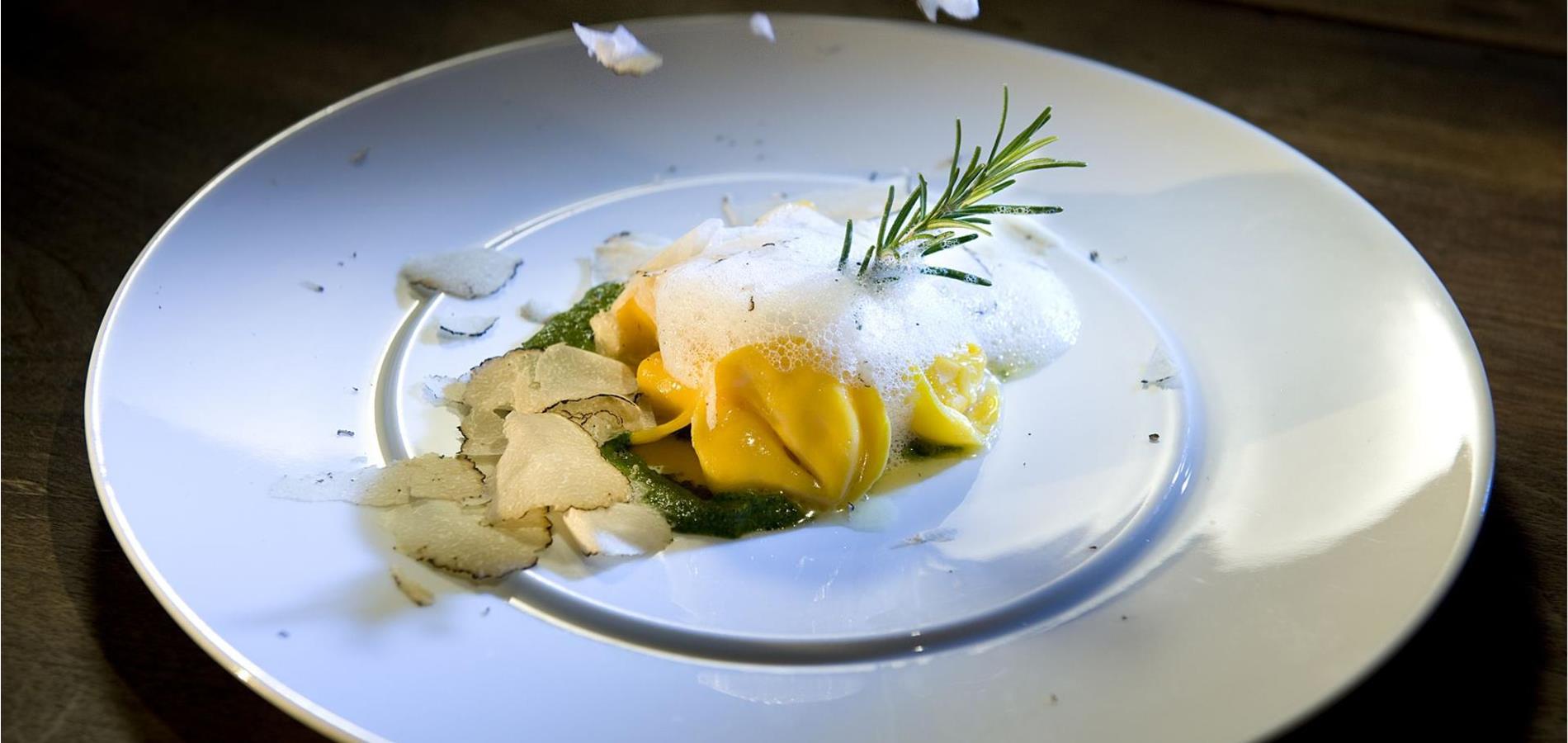 Spelt tortelloni filled with buffalo ricotta served on a Passeier Valley oxtail ragout with grated truffles
A recipe from the Bistro Fiorello in the La Maiena Meran Resort
Oxtail ragout:
1.2 kg of oxtail cut into pieces
Salt and pepper
2 onions
1 clove of garlic
3 carrots
1/2 a celeriac
400 g of tomatoes peeled and diced
Oil
250 g red wine
1 chilli pepper
1 pinch of cinnamon
1 tbsp tomato purée
Juniper berries, rosemary, thyme
1 litre of meat stock
Spelt tortelloni with buffalo ricotta
Spelt dough:
150 g spelt flour
150 g wheat flour
3 eggs
30 g oil
Buffalo ricotta filling:
400 g buffalo ricotta
Salt
Pepper
1/2 tsp grated lemon zest
50 g parmesan, grated
Season the oxtail with salt and pepper. Heat the oil in a large pan and brown the oxtail in it. In the meantime dice the vegetables, then add to the pan and fry together. Add the tomato purée, cook briefly then douse with red wine. Reduce and then pour on the meat broth. Add in the remaining ingredients and stew for approx. 3 hours. When the oxtail is cooked, take out, remove from the bones, press, leave to cool and cut into small cubes. Season the sauce and if necessary, thicken with corn flour. Put the meat in the finished sauce.

Knead together all of the ingredients for the pasta dough and leave to rest for around 20 minutes.
Mix together everything for the filling and season well, put in an icing bag and chill.

Roll out the pasta dough into thin strips with the pasta machine, frequently sprinkling the dough rolls with durum wheat flour. Cut the dough strips into squares, brush water onto the edges and squeeze out a little filling into the middle. Fold the sheets of dough into triangle shapes and form tortellonis. Cook in boiling salted water for 2-3 minutes, then toss in butter, put a little oxtail ragout into the middle of a plate, place the tortelloni on top and serve with grated truffle.