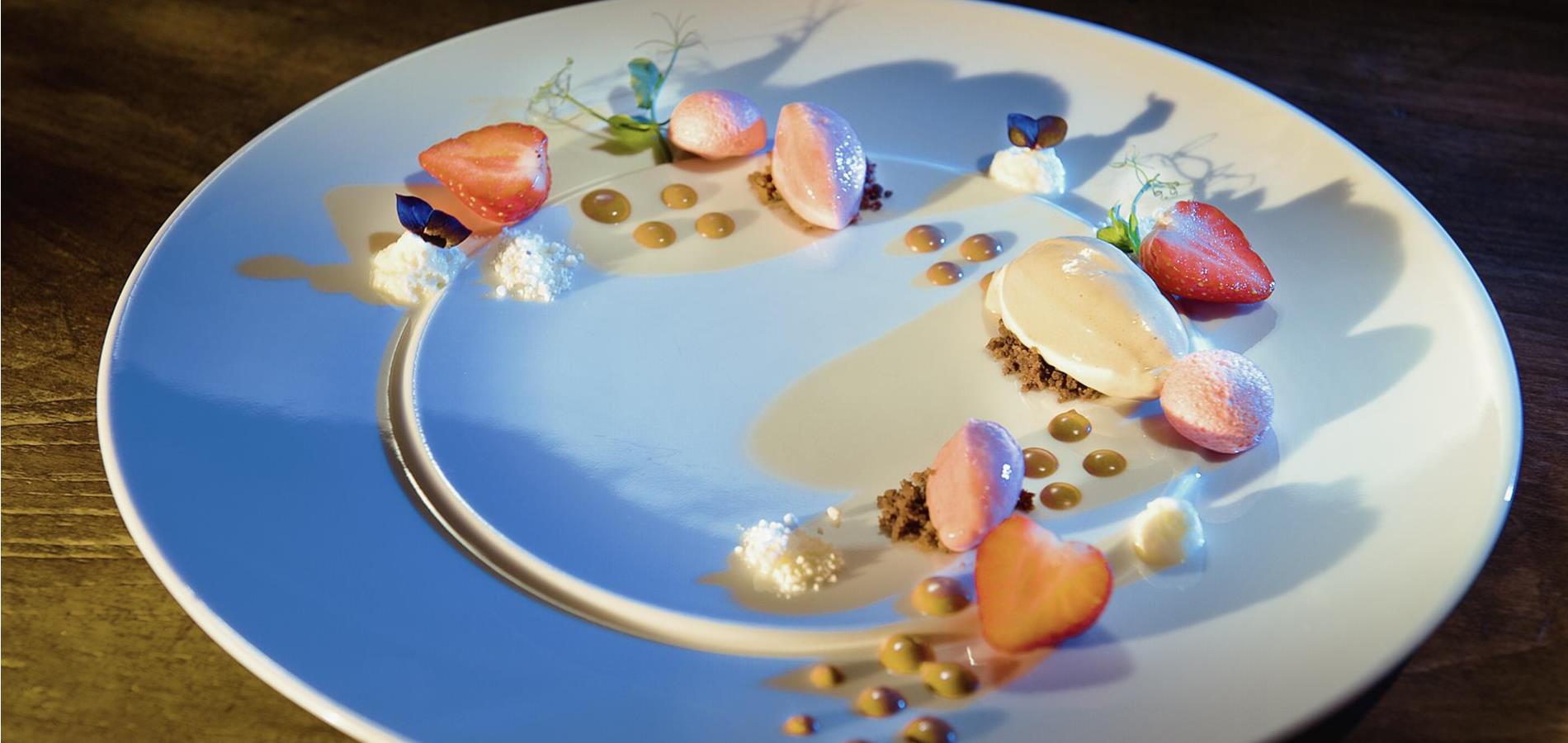 Pickled Val Martello strawberries served on pine nut brittle, with rocket sorbet, marinated rhubarb, parsley dust and Burrata
A recipe from the Bistro Fiorello in the La Maiena Meran Resort
Pickled Val Martello strawberries:
200 g strawberries in balsamic vinegar
65 g water
50 g sugar
3 g salt
1 tsp black peppercorns
½ tsp coriander seeds
1 sprig of rosemary
360 g Val Martello strawberries washed and cleaned
Rocket sorbet:
500 g water
150 g sugar
75 g glucose
35 g lime juice
20 g rocket
Pine nut brittle:
80 g brown sugar
2-3 tbsp water
100 g pine nuts
Marinated rhubarb:
4 sticks of rhubarb
440 g of pomegranate juice
200 g raspberry vinegar
150 g lemon juice
2 mint leaves
100 g frozen raspberries
Parsley dust:
1 bunch of parsley
Burrata:
4 pieces of burrata
Olive oil
Fleur de sel sea salt
Black pepper
For the pickled Val Martello strawberries, place all of the ingredients except for the strawberries in a pan, bring to the boil and simmer for 2 minutes. Put the strawberries into a preserving jar and top up with the hot liquid, seal the jar well and leave to stand for at least 2 days.

For the rocket sorbet, put the water, sugar and glucose in a pan, bring to the boil and then leave to cool. Mix the cooled liquid with the lime juice and the rocket, strain and freeze in an ice machine to the desired consistency.

Pine nut brittle: Put the sugar in a pan and melt to a caramel, then add a little water. Put the pine nuts in the pan and stir into the caramel. Remove the mixture from the pan, press out onto baking paper and leave to cool. Break the brittle into pieces with a heavy object.

Peel the rhubarb, cut into thin slices and place in a mould. Bring the remaining ingredients to the boil and pour over the rhubarb, then leave to chill and marinate for at least 24 hours.

Parsley dust: Remove the leaves from the stems, wash and spin dry. Spread out well over a piece of kitchen roll on a plate. Dry in the microwave at 400 Watts, turn at regular intervals. Then press through a fine metal sieve. Keep the powder produced in an airtight container until it is needed.

Marinate the burrata with a little olive oil, fleur de sel and black pepper and place in the centre of the four plates on the pine nut brittle. Strain the pickled strawberries, retain the juice and thicken with a little xanthan. Divide the thickened juice among the plates, scatter some pickled strawberries around the burrata, roll up the marinated rhubarb and place on the plate. Place a quenelle of sorbet next to the burrata and sprinkle everything with parsley dust.