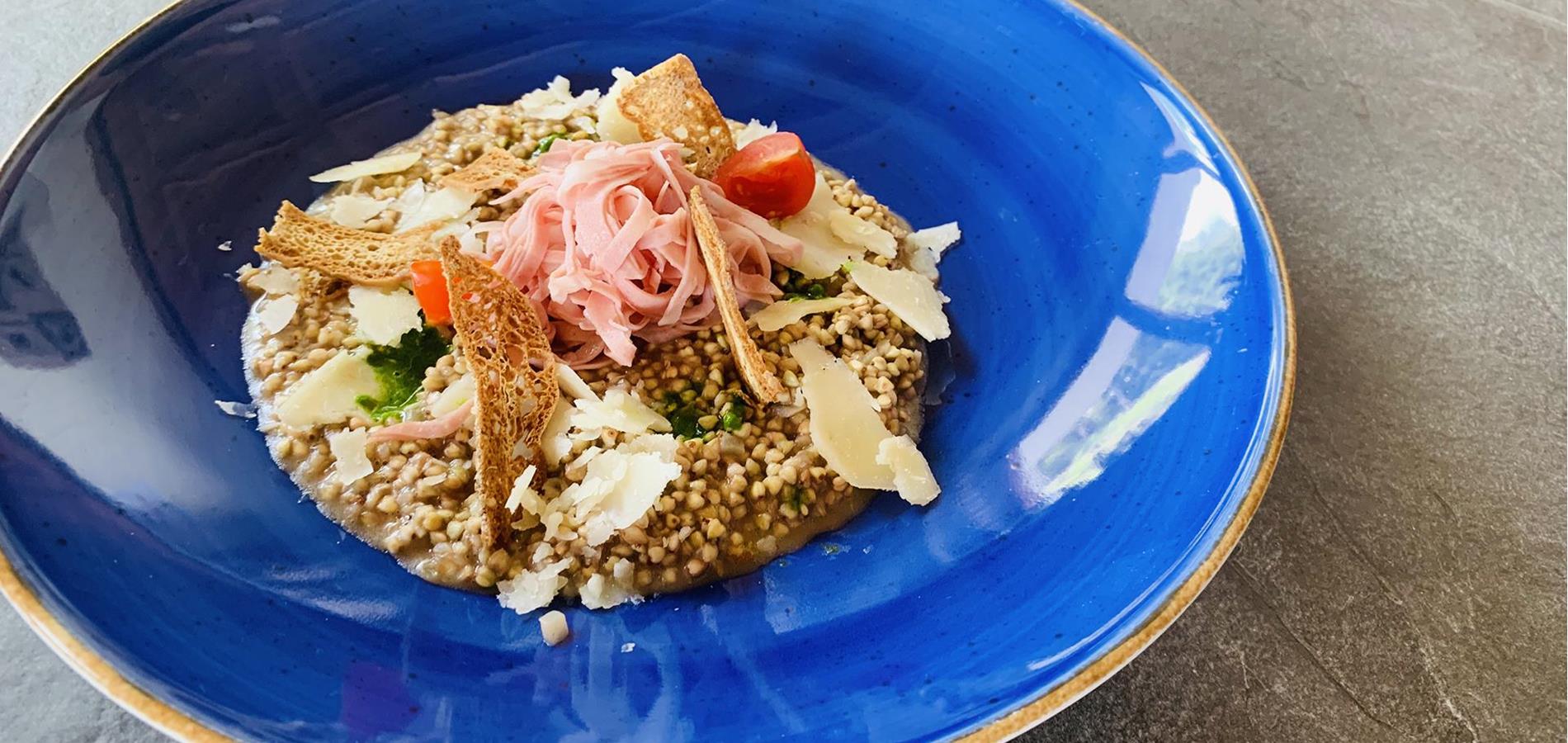 Buckwheat Risotto with garden cress pesto, mortadella, pecorino shavings and "Paarlbrot" bread chips
For 4 people

Risotto ingredients
Buckwheat 300 g
Diced Onion 60 g
Vegetable or meat stock 1lt.
Butter 40 g
Parmesan cheese 20 g
Salt and pepper

Pesto ingredients
Garden cress 100 g
Parsley 100 g
Olive oil 200 ml
Roasted, crushed walnuts
Salt and pepper to taste

Other
Mortadella slices
Pecorino shavings
Crunchy "Paarlbrot" bread chips
Preparation time: 40 minutes
Risotto
: Soak the buckwheat in lukewarm water for about 10 minutes. In the meantime, dice the onion into small cubes and fry in a pan with some butter until the onion becomes translucent. Deglaze with vegetable stock and add the pre-soaked, drained buckwheat. Let it cook with constant stirring for about 10 minutes until the grains have softened, and set aside.
Pesto
: Cut and blend all ingredients until you get a homogeneous puree.
Bread chips
: Cut the sliced bread (2 – 3 days old) into long, thin slices and bake in the oven at 180°C for approx. 8 minutes.
Finish
: Cut the mortadella into strips and dress with a little pesto. Then season the risotto with butter and Parmesan cheese, adding salt and pepper to taste.
Spread out the risotto on a plate and nape it with pesto, arrange the mortadella cubes on top then garnish with pecorino shavings and bread chips before serving.
Download recipe

Buckwheat Risotto with garden cress pesto, mortadella, pecorino shavings and "Paarlbrot" bread chips