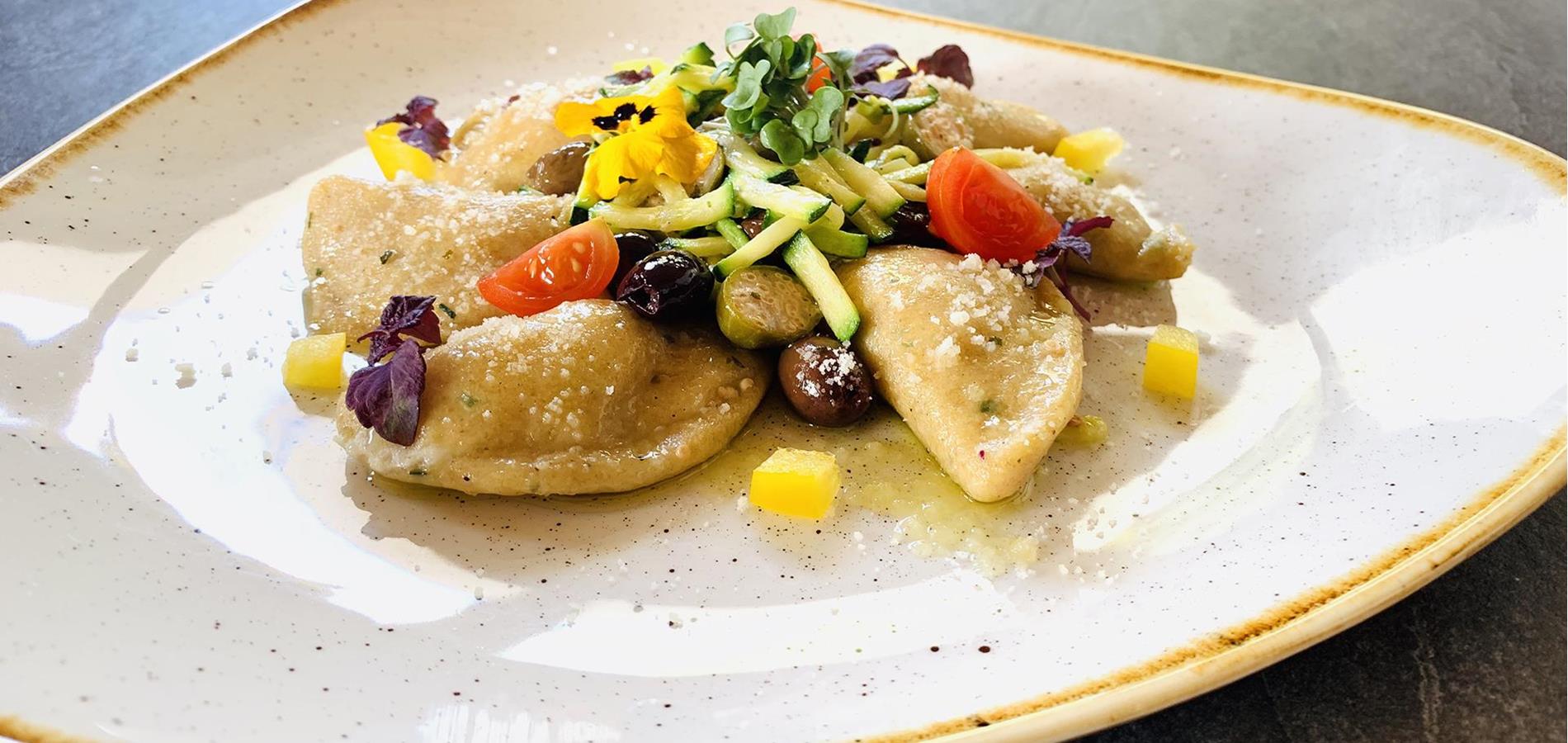 Potato and Spelt Gnocchi filled with fresh river trout from the Passeiertal Valley, capers, courgettes and Taggiasche olives
For 4 people

Ingredients for the potato spelt dough
Filling of River Trout fillets
2 courgettes cut into strips
Capers
Taggiasche Olives
Butter 200 g
Salt and pepper
Parmesan cheese

Ingredients for the potato dough
Potato (starchy) 400 g
Egg yolk 1 unit
Unrefined spelt flour 120 g
Salt and nutmeg
Melted butter 1 TBSP

Ingredients for the trout filling
River trout fillets (individual weight – meat only) 120 g
Salt and pepper
Garlic clove diced
Lemon, parsley
Egg albumen 1 unit

Preparation time: 50 minutes
Potato dough
: Wash, peel and cut the potatoes into smaller pieces then cook in salted water. Strain and allow to cool before feeding through a potato press. Combine the puree with the other ingredients and knead to obtain a compact dough.
River trout
: Skin and debone the fillets. Place into a blender and shred with the other ingredients to make a fine paste.
Dumplings
: Roll out the potato dough to a thickness of approx. 0.3 cm, and use a round cutter (or a glass approx. 6 cm in diameter) to cut into rings. Stuff the filling into a piping bag and inject matching doses into the middle of the individual cut-out potato dough rings. Once completed, fold the dough over into half-moon shapes, taking care to seal the ends.
Finish
: Cook the potato dumplings in boiling salted water for about 3 minutes. Meanwhile, heat a pan allowing the butter to melt and sauté the capers, Taggiasche olives and courgette strips together. Place the contents onto the cooked dumplings and serve.
Download recipe

Potato and Spelt Gnocchi filled with fresh river trout from the Passeiertal Valley, capers, courgettes and Taggiasche olives