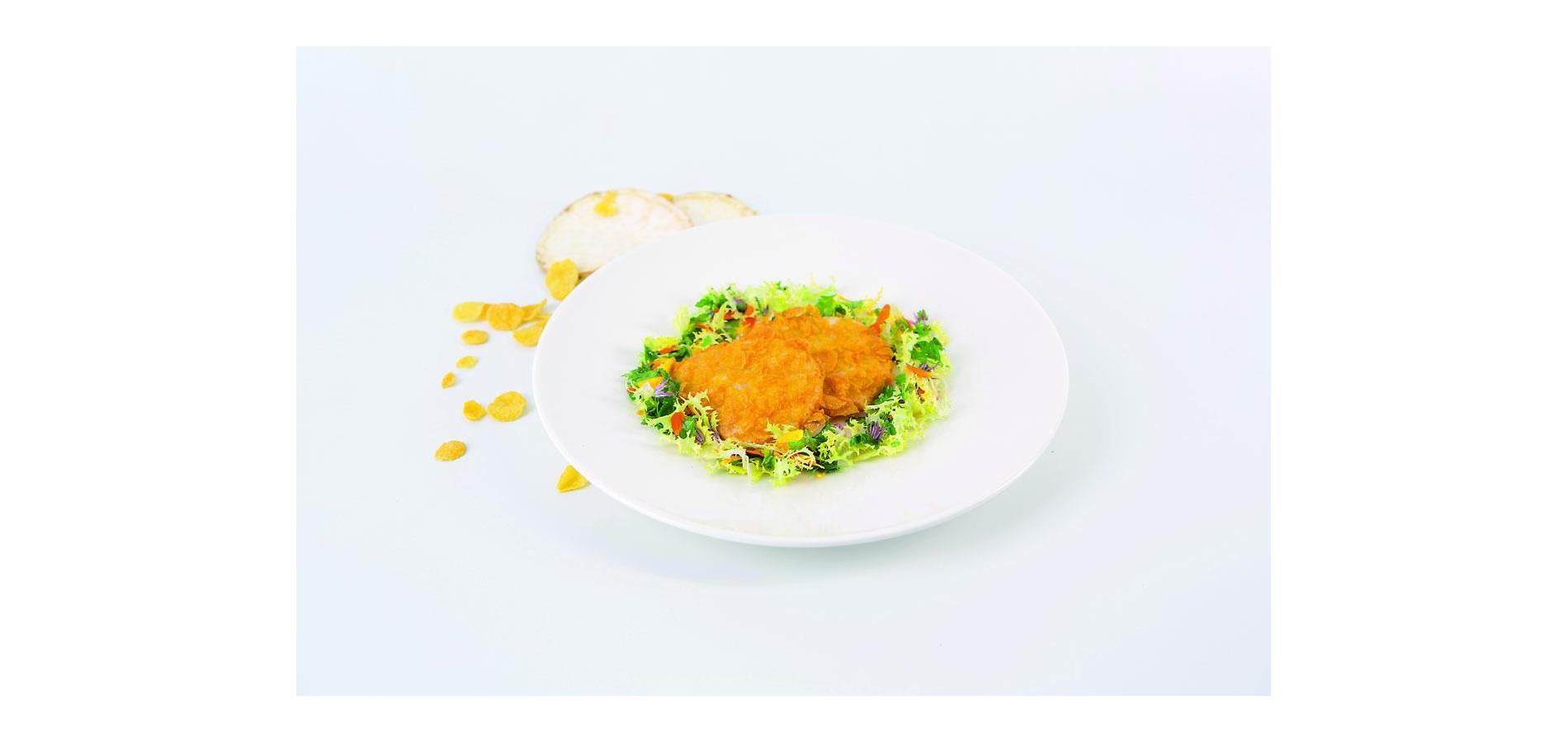 Celery cutlet baked with corn flakes and herb salad
for 4 persons
Celery cutlet
8 celery slices of 40 g each
Salt
1 egg for breading
3 tablespoons of flour for breading
100 g corn flakes, coarse - crumbled for breading

Herb salads
40 g salad and herbs (frisée, dill, marigold, chives and chervil)

Nut dressing
2 tablespoons nut oil
1 tablespoon cider vinegar
2 tablespoons apple saQ
Salt
Pepper

Further ingridients
Baking fat
Celery cutlet
Cook the celery slices in salted water.
Salt cooked slices on both sides.
Whisk the egg with a fork, turn the celery slices in flour, shake off excess flour, pull through the whisked egg and bread with coarsely crumbled corn flakes. Shake off lightly.

Herb salad
Pluck and wash the frisée salad, dill, marigold, chives and chervil.

Nut dressing
Mix nut oil, cider vinegar, apple juice, salt and pepper and prepare.

Cooking
Heat plenty of fat in a frying pan, bake the celery cutlets on both sides and let them drain on a kitchen paper.
Marinate the herb salads with nut dressing and arrange on plates.
Arrange the celery cutlets on the herb salad and serve.

TIPS

Serve cranberry jam with it.
Instead of celery tuber slices you can also use zucchini or fennel.
Instead of Maisflocken you can also use hazelnuts or pumpkin seeds.
Do not turn the cutlet too early and do not leave it in the pan too long, otherwise the breading will come off and the celery will dry out.
Slices of celery: about 7 minutes
Celery cutlet: about 160 degrees, about 4 minutes

Recipe: Heinrich Gasteiger