Juval Castle at the Entrance of the Schnalstal Valley
An imposing manor house
Perched on a hill at the mouth of the valley, Juval Castle looks out imposingly across the Schnalstal Valley. Built in 1250, this medieval castle is now the summer residence of celebrity mountaineer Reinhold Messner. Juval Castle is one of the six Messner Mountain Museums. The permanent exhibition here is focused on the Myth of the Mountains and includes a large collection of Tibetan masks and Himalayan artefacts, as well as a library and a collection of paintings of the world's great sacred mountains. Adjacent to the museum, Juval Castle also has a park with small animals, a wine estate, an organic farm and an inn.

A good way to get to Juval Castle in the Schnalstal Valley is along the Tscharser or Stabener Waalweg trail. The front facing wall of the Messner museum is the site of the Hoachwool via ferrata.

Shuttle
Daily except Wednesday starting from the parking lot of Castel Juval towards the restuarant "Schlosswirt Juval". From the arrival point of the shuttle there is a 15 minute walk to the Castle. One-way: € 3,00 - Roundtrip: € 5,00

More information +39 0473 668 058.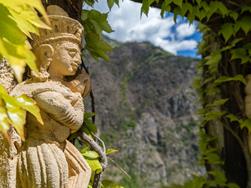 Maria
The custodian at the entrance to the valley
Under a golden sun, two castle guides are waiting for their first guests at the heavy wooden door in the outer wall, with their dog. That's us today. There is a magical calm within the courtyards of Castle Juval.
read more