Certosa/Karthaus in Schnalstal Valley
The Allerengelberg Monastery in the Schnalstal Valley
The small village of Certosa/Karthaus is located at 1,300m a.s.l. and is the main town of the Schnalstal Valley.

Certosa/Karthaus was once a Carthusian monastery, founded in the year 1326 and dissolved in 1782 by the Emperor Joseph II, after which farmers settled in the monastery walls. The monastery wall characterizes the tranquil village to this day.

The renovated cloister now houses art exhibitions, and initiates a historical tour with twelve stations leading throughout the village. A meditative herb garden invites guests to pause and relax; the contemplative Via Monarchorum hiking trail runs from different directions to the former monastery.

On this page, you will find an overview of available accommodation in the locality of Certosa/Karthaus, ranging from B & B's and farm holidays to hotels or self-catering apartments. Everyone will be able to find its preferred means of accommodation in Certosa/Karthaus.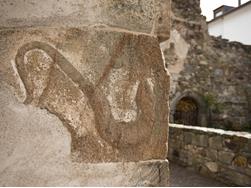 Maria
A silent village – enigmatic Karthaus
What a windy day in Karthaus but the streets are swaying in gentle tranquillity, nestled against steep slopes. Still looking for the monastery, you will find that you are right in the middle of it.
read more