Wild herb days in Lana and surroundings
Local and healthy
In May Lana will once again be the venue for the Wild Herb Days. The chefs in participating restaurants in Lana and environs create delicious dishes with wild herbs and vegetables.

During the "Wild Herbs. Local and Healthy" Gourmet week, the early spring season in Lana and its surroundings will shift its focus from the usual apple orchards to local wild natural resources.

Visitors can also experience moments of wild herb walking tours, wild herb Workshops and gain further information on the theme at a variety of events where wild herbs will be in the spotlight. Wild herbs and vegetables, that were almost forgotten, survived in the traditional kitchen of the Burgraviato area and are now experiencing a comeback. The produce used for the dishes is exclusively supplied by local farmers.

The chefs and experts of the Wild Herb Days also provide interested guests with valuable information and background knowledge, since one of the main objectives of this three-week-long gourmet festival is to make these delicious and valuable foods, which are part of our cultural heritage, known to a wider audience.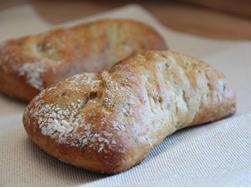 Visit Lana Team
The Balance-Fly
The wild garlic Balance-Fly, is a wheat-free, seasonal spelt speciality product from the Schmidt bakery.
read more